We are a small working group who met during an international training on sustainable activism in Spain at eco-dharma in November 2014. All of us are committed to working at the intersection and interdependence of activism, personal work and systemic change.
We are involved in grassroots networks and activism in Central Eastern Europe and internationally and are also part of a transnational networks of trainers around sustainable activism.
We felt inspired and compelled by a workshop on generative somatics and committed to facilitate bringing generative somatics courses to activists in Europe. Given our background and given the unequal distribution of resources and access inside of Europe we are especially committed to supporting activists and grassroots organizing in Central Eastern Europe.  
We are involved in diverse struggles as organisers, activists and allies:
LGBTIQ* (Lesbian, Gay, Bisexual, Trans, Inter and Queer) struggles
grassroot environmental issues, e.g. climate campaigning, Reclaim
the Fields and anti-coal campaiging
anti-fascist actions
refugee solidarity, e.g. in Calais and Berlin
anti-racism
prison solidarity
Some areas we have been working inside of our trainers network are:
consensus decision making
action trainings
anti-oppression workshops
sharing facilitation skills
womyn self-defense
trauma support
movement building strategy
Some of the projects we are involved with include:
SPINA
Activist Trauma Suppport
EYFA
Koko – das Kommunikationskollektiv
We are partnering with generative somatics in Oakland, California, USA: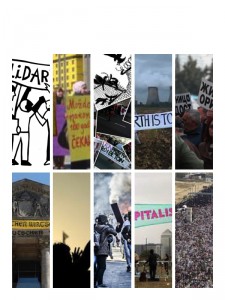 Why am I co-organising the generative somatics training in Poland?
As a radical grassroots activist I am always wondering what we need in order to strengthen our movements and to make radical social change actually happen.
generative somatics seems to promise an effective framework to bring together body and mind, emotions and thoughts – to work towards individual and collection liberation. I especially like that it is not overloaded with pseudo-spiritual/ psychological baggage – but pretty straight forward as it's been brought forward by activists for activists.
I am excited that we are starting to bring generative somatics to Europe.
As a genderqueer activist I am convinced by the gentle but honest way the generative somatics trainers hold trauma and oppression which are present in every group.
Jael.